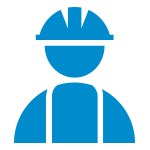 Program & Construction Management
Since 2001, CAS has continuously participated in large program and construction management activities, totaling more than $1B in construction value. We began these services with the Austin Clean Water Program, a $400M wastewater rehabilitation program and subsequently worked on the South IH-35 W/WW Infrastructure Improvements Program, a $80M program to expand water and wastewater services in southeast Austin.
CAS was later involved in the $587M Water Treatment Plant No. 4 and the $143M Waller Creek Flood Mitigation Tunnel, as well as the $90M SAWS Brackish Groundwater Desalination Plant. We also served as the construction manager for the $270M City of Atlanta Water Supply Project, and currently serve as part of a construction management team for the Biosolids Digester Facilities Project at the San Francisco Public Utilities Commission's Southeast Water Pollution Control Plant, a $1.36B program. CAS is part of a team providing program management consulting services (currently in contract negotiation) for AISD's $1B 2017 Bond Program.
Planning and Schedule Development, Establishment of Key Milestones and Parameters.

Integrated Management Information System Development

Budget and Cost Management

Project Delivery Analysis

Communications Planning

QA / QC Plan Development

Regulatory Agency Coordination

Health and Safety

Constructability Reviews

Risk Analysis, Management, and Avoidance

Specification and Plan Review